No Wi-fi
No fees
No hassles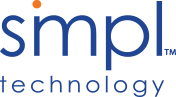 Easy to use universal remote with only 5 key functions!

Only 5 main funtion buttions

Compatible with virtually all TV brands and STB's (set up boxes)
Big button keypad

Highly durable casing
Take the frustration out of watching TV just for a senior to watch a handful of shows. The smpl Remote is easy to use, universal and has just 5 programmable buttons. The perfect TV remote for seniors who may have poor eyesight, trembling hands, or just become confused with so many buttons on the device. Problem…solved.