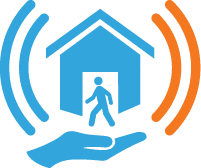 The simplest, complete & expandable monitoring system available.
Delivers safety, independence, customer service and peace of mind.
Never miss an alert with sound, vibration and flashing wherever the caregiver/manager is situated in and around the home or business
Low-cost solution & no monthly fees – utilizing low power consumption radio frequency technology
Wireless – designed for easy set-up in minutes and no tools required, double-sided tape included
Expand monitoring with up to 20 additional Sensors. Eases Caregiver Stress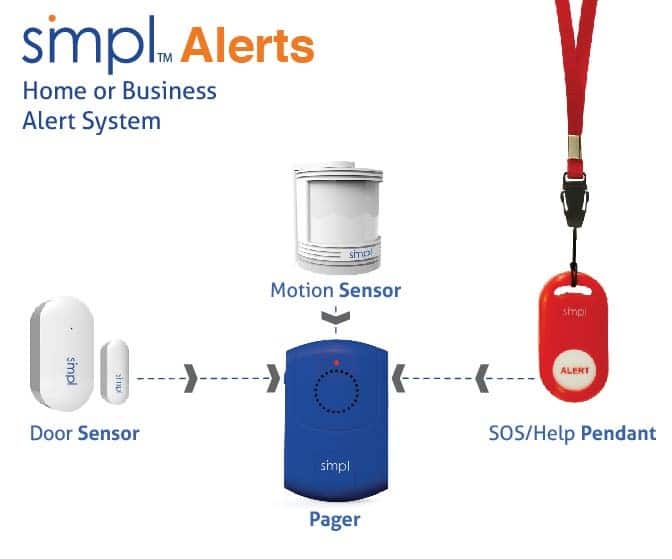 Be Aware of People Wandering. Entering
Unsafe Areas. Falls. Emergencies. Or if they
Need Help 
Now you can 'watch' while you're attending to other tasks at home or work.
Now that's independence.
Problems….Solved.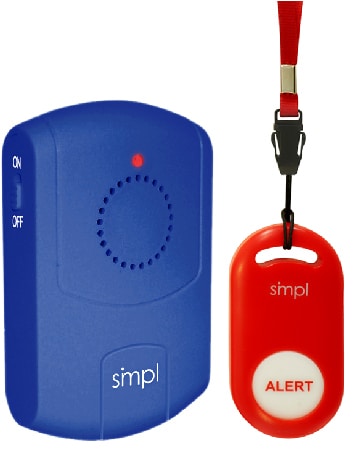 Includes Pendant with Neck Strap & Pager
For Emergencies or When Assistance is Needed
Whether a bad fall requires urgent help, or someone needs something at home or work and you're
close by.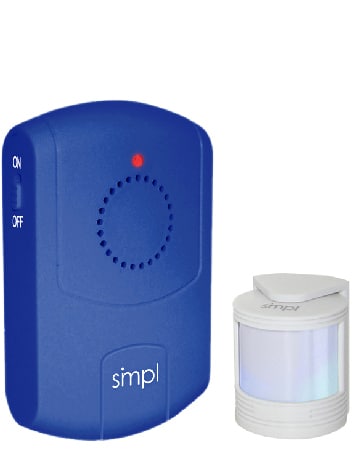 Includes Room Motion Sensor & Pager
For Fall Preventions, Anti-Wandering & Customer/Visitor Awareness
Now you don't have to worry when they enter areas where they may need your help and you're
close by.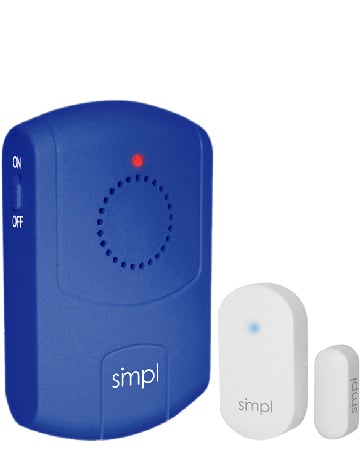 Includes Open Door Sensor & Pager
For Anti-Wandering & Customer / Visitor Awareness
Now you don't have to worry when they are about to wander
away when you're close by to
help.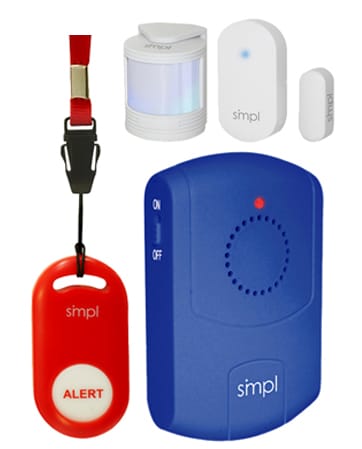 Includes Door, Motion, SOS/Help Sensors & Pager
For Anti-Wandering, Fall Prevention & Emergency or Help Alerts
Maximize awareness and independence with smpl's complete and expandable monitoring Alert system.

Peace of mind

I have an Autistic child that wanders and an older parent so this all in one kit was great. My mom has the pendant and I use the door alarm for my son. The absolute best part is that the alarm is portable!! I can move around inside n' outside our apartment and always be aware of alerts.
It's not terribly loud but since you wear the alarm base it doesn't really need to be unless you're a deep sleeper. If you are a deep sleeper than only rely on this during your awake hours and invest in a loud one for naps or sleep.
Also like that you can turn off the alarm on the base as my son figured out alarm means I'm going outside n' he thinks it's time to go buy toys lol, so if I just need to take out the garbage I turn it off til I get back inside.
Exactly as advertised

Purchased and installed this for a friend. It works via radio signal so as long as you have good batteries in the device, it works flawlessly. The base unit is compatible with up to 20 triggers and you can customize the signal for each door or window you're monitoring. Highly recommended!
Wonderful alarm!!!

We needed to get this to protect my Grandmother with dementia from exiting the front door without our knowledge. This has been a Godsend!!!!!
Great alarm for the home

Great alarm system. Easy to install, easy to use. Wonderful peace of mind.
Helps with autistic child

Been a life saver for when we are sleeping and our 6 year old autistic child gets out of room in the middle of the night
This is an easy install great safety kit for someone you love who might need assistance

I was hesitant about this but what I love is that there are no hidden fees, no wifi required. WE installed this for my FIL and it works great. WE keep it by the bed and the motion sensor in the hallway to know if he has left his room at night. It's rather easy to install and works great so far. The positive is that it is rather easy and no large bulky parts or issues. The pager alerts you when one of the alarm triggers has happened.
I feel like this is an entry level system and works great. This is for someone who might need help but not someone who is co-dependent all the time. Hope that helps!
Great

My son set this all up for me. He was a bit flustered to say the least
He insisted we get this because lately I have been falling over air. Not sure what's going on I'm only 55 but falling has become a very unwelcomed guest in my life. I feel better knowing with a click of a button I can send for help if need be. Good price and great benefits for us elderly.
Works well

I have a set of security cameras around my house and I wanted something a little more noisy if there were to be a break in and this seemed to fit the bill. It works pretty well and gets loud enough for me to hear anywhere around the house. I would imagine it would at least scare away an intruder and alert me to call the authorities. Very simple install as well. Great product!
Great system! Easy to expand

This is a great system. I got this for my father who has dementia. I have been all the way out in our detached garage and had the pager alert me that he was up and moving. The motion sensor is great. I positioned it at bed hight so it alerts me when he sits up. I have 2 door sensors and 2 pendants. I used command strips to put a pendant up in the bathroom so my Dad can page me if he needs help and he also has one he wears.