Designed for anti-wandering and awareness.
Now caregivers or business owners/managers can stay aware when a care recipient (elder/child/disabled) or a customer/visitor walks through any monitored door, inside or out, and you're close by to help.

Door Monitoring

Cupboard & Window Monitoring
Works right of the box
When a monitored door (window or cabinet) opens, the Pager will sound,vibrate and flash, ensuring the caregiver/manager is notified when they are busy elsewhere, within 250 ft. of the Sensors. There are dozens of sounds and four volume level options. The Pager can be turned off anytime when not monitoring.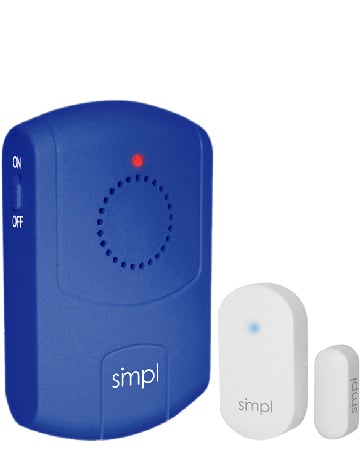 Buy Door Alert Kit From smplTec

Now caregivers or business owners/managers can stay aware when a care recipient (elder/child/disabled) or a customer/visitor walks through any monitored door, inside or out, and you're close by to help.

The smpl Door Alert Kit is a simple and expandable monitoring solution. This  smpl kit includes a Door Sensor and a Pager to help with anti-wandering and customer/visitor awareness. smpl Alerts increases safety and independence for everyone involved.

Receive alerts when someone opens a monitored door (cabinet or window) leaving their room or residence and enters an unattended or unsafe area inside or outside, or customers/visitors enter an unattended business/office area.

Install Sensor on doors, windows or cabinets. smpl Alerts can help prevent seniors with dementia or Alzheimer's from wandering and help keep children, disabled and visually or hearing impaired persons safer.  Also utilized in many business/work/office applications.

When a monitored door is opened, the smpl Portable Alarm will sound, vibrate and light up, alerting caregivers/managers wherever they are situated in the home/business or at a next door neighbor or in the backyard. Because the Pager is with the caregiver/manager, the Alerts do not startle the care recipient/customer. 

Now you don't have to watch them every minute of the day. Spend more time attending to other tasks, with peace of mind, by staying aware when someone may need help.

Sensors signal Pagers within a 250 ft. (75m) signal distance (open area) and 100-200 ft. in an average home, suitable for virtually any home or business.   Monitor caregetters/customers wherever you are situated – in another room or office, just outside or at a next-door neighbor. Simply turn off the Pager when monitoring is not required. 

smpl Door Alert Kitis simple to install and use. The wireless Sensors include a pre-installed battery and double-sided tape for installation in minutes. The smpl Pager and Door Sensor is paired right out of the box. No internet, Bluetooth, wiring or any additional fees are required.

The portable and vibrating Pager can be clipped to a belt, fit in your pocket, or simply placed on a table. The Pager requires 2 x AAA batteries, not included.

Additional Add-On smplSensors or Pagers can be purchased separately to expand coverage. Monitor more doors, cabinets, windows, rooms, hallways, areas or people Sold separately or in kits. Up to 20 additional Sensors can be paired to one Pager in a few easy steps. You can set different alert sounds and volume levels for each Sensor, if needed. Up to 20 Add-On Pagers can be paired to one sensor to allow for more users in a few easy steps.

Bottom line – smpl Door Sensor Alert kits delivers peace of mind. Now when they are about to wander off outdoors, or you have a visitor/customer, you can be there in seconds to help. No Wi-fi. No fees. No hassle.

Problems….Solved.

Clip on a belt

Place in your pocket (removable belt clip)
Place on a desk or table
Wall mountable

smpl Pager design is – SIMPLE

Designed for ease-of-use and set-up in minutes

Never miss an alert – receive sound, vibration flashing alerts
Select from 4 volume settings and over 50 melodies. You can set different volume and/or melody setting for different sensors or pagers (optional) if preferred.

 

Pairing Sensors to Pagers

smpl Alerts Sensors & Pagers purchased in kits are paired to factory settings. To pair smpl Add-On Sensors to Pagers, or to adjust Pager volume and/or melodies from factory setting when purchased in Kits, follow these three easy steps.

1. Select the Melody and Volume level preferred using inset buttons shown

2. Press the Melody Change button for 5 seconds to enter setup mode

3. Trigger the specific Sensor your setting up quickly and your all set!

smpl Pager Main Technical Specifications

Power: 2 x AAA batteries, not included

Transmission distance: 250 ft. (75m) in open air; 100-200 ft. in average home/office

Volume: 25 -110 dB

Dimensions: 2.25" x 3.5" x 1 inch

Works on any door, the Magnet and Sensor can be installed as much as ¾ inch apart (Exception: Sensors do not work well if door is metal)

Install in minutes with pre-installed double-sided tape

Signal is sent to the Alarm

when magnet and sensor are separated by more than ¾ inch.

 

 

 

 

 

smpl Door Sensor Technical Specifications (drop down menu)

Dimension: Height 1.8in X Width 1.37in

Operation range: 80~100m (in the open area)

Radio frequency: 433.92MHZ 士 200KHZ

Operating current: 3uA(standby) 15mA(Transmitting)

Operating voltage: 3V DC

Battery type: 3V CR1632 button battery

Low power alert (Yes or No): Yes

Waterproof (Yes or No): No

Installation gap and height: ≦0.4 inch ≧3.3 feet

Working temperature: -10℃+50℃

Working Humidity: ≦85%

| | |
| --- | --- |
| Problem | Solved |
| When care recipient wander outside or inside to unsafe areas or customers arrive and the manager is busy with other tasks. | More awareness, safety, independence and peace of mind. Pager alerts caregivers/managers wherever they are situated around home/work settings. |
| No Wi-Fi at home or work | Wi-Fi is not required |
| Cost – expensive monthly fees | Low cost solution and no monthly fees – utilizing low power consumption Radio Frequency technology |
| Complicated set-up | Wireless – designed for easy set-up in minutes |
| Require multiple monitored doors or areas | Additional smpl Sensors (up to 20) can connect with each Pager to expand monitoring coverage for increased safety. |

Nice Door Alarm

Reviewer : JD from Crawfordsville , IN United States

I purchased this to help my mother keep track of dad. It was easy to install and works nicely.

---

Satisfied

Reviewer: Daughter from US

Bought this for my mother. The instructions for installation is more than I thought it would but overall I am happy for the purchase and price.

---

Door alarm

Reviewer: Karen Cusack from Wilmington, DE United States

I like the item but had trouble mounting it. I am renting for 3 months and the door frame is not smooth. I used the adhesive so as not to damage the frame around the door. It did not stay stuck. Will find more double sided tape to make it work.

---

 Great Product

Reviewer: Satisfied Customer from Kentucky

Product was very easy to install and configure.  Worked as advertised.

---

door alarm

Reviewer: john hamara from aliquippa, PA United States

The door alarm worked better than expected. It has along range and good volume

---

 Great indoor alarm

Reviewer: Susan Frank from Trophy Club, TX United States

I purchased this device to use as a bedroom door alarm that wouldn't frighten my two year grandson who has just begun sleeping in his junior trundle bed. It was easy to install and it is nice to have multiple choice regarding the type of alarm chime. We are very happy with this purchase.

---

Immediate success

Reviewer: James Hennigar from Penney Farms, FL United State

I installed the alarms on all exterior doors in a matter of minutes (after reading the directions). I set a minimum sound and they work perfectly. Feel much more relaxed knowing I do not need to worry about unwanted exits anymore

---

Door Alarm works great!

Reviewer: Mary Abulencia from Liverpool, NY United States

My dad had wandered out of the house in the middle of the night and luckily he turned around and came right back in.  But after that, we bought these door alarms.  One for the front door, one for the door to garage.  We were able to set different tones for each door so we know which door is being opened.  Works great!

---

Happy Customer

Reviewer: Anonymous Person from Satsuma, AL United States

The door alarm that I ordered was easy to install and was the perfect remedy for the problem. Works perfectly to let me know when my husband leaves the room.

---

 Fit our needs perfectly

Reviewer: Anonymous Person from Groton, CT United States

After trying two other locally purchased products that did not last 24 hours, this was exactly what we needed. Easy to install and HEAR, movable receiver, many choices of ring tones, able to easily change to an alarm sound made us very happy with this purchase

Q: What is the smpl™ Wander Alert™ product line all about?

A: smpl Wander Alert products are easy to use and install door and motion sensors, and a portable alarm, to help caregivers and family members monitor a care recipients movements inside the home to help increase safety and peace of mind for all concerned. Caregivers receive alerts when the Door and/or Motion sensors are triggered by motion. The smpl alarm is portable enabling the caregiver to receive alerts wherever they're situated in or around the home or business (150-250 feet from the sensors).  No Wifi, no monthly fee and easily installation (no wiring), and its an expandable system. 

Simply place the Door Sensor on any door, window or cabinet door in your home, or the motion sensor in any room or hallway in your home and you'll get an alert on the portable Alarm phone when the sensors are triggered (infraction).

Do I have to purchase the kit? Or can I buy it piece-by-piece?

smpl Wander Alert products can be purchased in a kit or the sensors and alarm can be pouched separately to expand monitoring points or give alarms to additional caregivers .

How do I control Alarm sounds?

You can easily increase the volume or change the alarm melody by following a few easy steps in the User Guide.

How long do the sensor batteries last? Alarm batteries?

The Sensor pre-installed batteries last between 6 months and one year, depending on frequency of infractions.  Alarm batteries also 6-12 months, depending on frequency of use.

I have more questions- who do I contact?

Please email support@smpltec.com or call 1-833-237-4675 x1 for technical support.