An elderly relative wandering off never to be seen again is the single greatest fear of most caregivers. Simply put, there is no way to completely safeguard against it, but there are some steps which can be taken to help prevent a wandering incident.
Identity jewelry or cards. The old standby of a piece of jewelry – be it a bracelet, pendant or other – with their name and contact info for a caregiver is still one of the best safeguards. It won't prevent a wandering incident, but it will help get them home after one. If they won't wear jewelry, make sure they have cards with your cell phone number printed on them in their wallet, purse or coat.
Door alarms. Another simple but very effective tool. An alarm which goes off whenever the door it is mounted on is opened. Our own SMPL Entry Alert is one such device. The wireless alarm receiver can be carried around the home, so you will always know when your door is opened.
Experts recommend pairing the alarm with a basic chain or slide lock from the hardware store, which will delay their exit without locking them in. That little bit of time needed to open the lock can give you the chance to intercept them.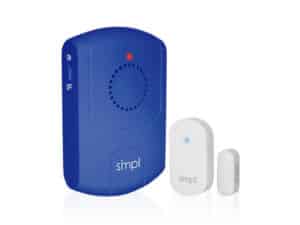 GPS Trackers. This is a more extreme measure, but it may be an option for many. Most personal GPS trackers take the form of a watch. At any time a caregiver can access an app or web portal to quickly locate the wearer on a map. Most of these devices also allow for 2 way voice communication in the event of an emergency.
"Have You Seen Me" Cards. Another analog tool which won't stop a wandering event, but may help get them home safely & quickly. These are simply cards you have printed up – maybe the size of a postcard – with your loved one's picture & name, with your contact info on it. You distribute these to places within walking distance where your loved one may go to: stores, restaurants, businesses, libraries, houses of worship. If they are seen by workers in those places, they can call you or EMS to help bring them home safely.
At the end of the day, the most
Brought to you by smpltec.com, Technology for Seniors News.